www.facebook.com/skagiteagles
Added in 2015 is the long awaited Nooksack eagle tour! This trip is down a remote river system with large bird numbers and beautiful scenery along the way. The Nooksack river eagle tour is a higher energy float than the Skagit, but with big rewards. The Nooksack is a lot smaller river than the Skagit and the only way we can offer tours on it is by using a catamaran style raft. Depending on the the river level you may have to step out of the boat and wade through shallow water for a short distance(Rubber boots are a must on this trip).
This Nooksack eagle tour will require the clients to be able to help drag the raft a short distance and be comfortable with walking in ankle deep water. The Nooksack River Eagle Tour will be a very different experience from the Skagit as there is a few short stretches of mild white water as well as narrow river channels. This tour requires a minimum of 3 people and has a maximum of 4. The Skagit may be renowned for the Bald Eagles, but the Nooksack has higher numbers every year and we are happy to be the only outfitter operating on the upper section of this system.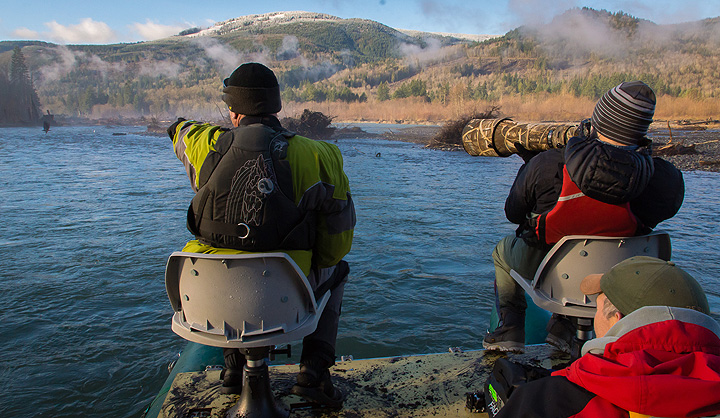 Nooksack 6 Hour Photo Tour
These tours offer more opportunity for the client to capture action shots of the eagles. As we navigate the river we will be stopping in select spots with high concentration of birds and concentrating on capturing pictures of the birds feeding. This tour requires a minimum of 3 person and maximum of four. If you would like this to be a private tour you would have to purchase the minimum 3 seats, Then let us know via email or phone and we will block the the last seat out and secure the boat for you for the day.$175.00 per person.
Photo Contest
If you are interested in entering our photo contest just send your picture to us via email to: skagitguide1@gmail.com . All pictures will be posted on our facebook webpage at: