Skagit Jet Sled Photo Tours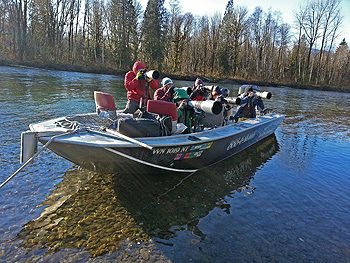 This 3 hour tour is specifically meant for photography using a Jet powered boat (jet sled) which has become our photography clienteles choice for getting great pictures of the birds. It has a large motor to run upstream and a small 4 stroke motor that I use to control the boat as we drift back down river. The small motor is quiet and doesn't disturb the birds natural habits. This is especially true when we are getting in position for a close up shot of the birds while they are feeding or sitting in low branches along the river. The jet sleds ability to go back up stream makes it much more versatile, and allows for more opportunity. One other positive about the Sled is that it is large and can hold 6 photographers plus gear. It is also a very stable platform.
Jet Sled Photography Tour Rates:
$99.00 per person ( 4 person min, 6 person max) If you are booking online and don't have enough people in your group to meet the 4 person minimum, give us a call. We have many photographers that are often waiting for other people to ask for the same date and will be able to work with you to get you scheduled for a tour.
Private Jet Sled Photography Tour ( 1 to 6 persons) $594.00
6 Hour Private Photo Tour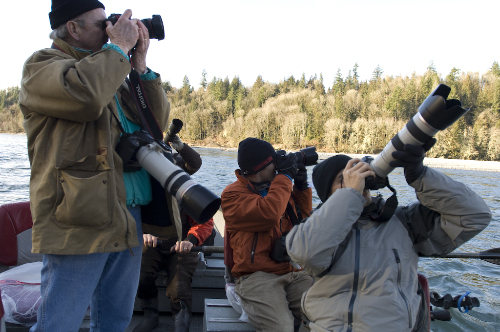 Available year around is our Photography Tour on the Skagit or Sauk rivers. If you are looking for an all day Photo Tour, this is the trip for you. Of course the highpoint of the year is the return of the Bald Eagles in late fall, but there are many photo opportunities for wild life and scenic shots year around. These tours are customized to the amateur or professional photographer and is a 6 hour trip. You will have the boat to yourself on this tour with a guide that will do his best on getting you as close to the wildlife as possible, as well as getting you in the right position for lighting and scenic shots. Give us a call and we will discuss what would work best for you. Don't forget to enter our Photo contest! You could win a free photo tour!
Photography tour 6 hour (private party) float trip.
1 or 2 persons $450.00
3 Persons $500.00
4 Persons $550.00
5 Persons $600.00
6 Persons $650.00
Give us a call for larger groups or corporate outings.
Nooksack 4 hour Scenic or Photography Tour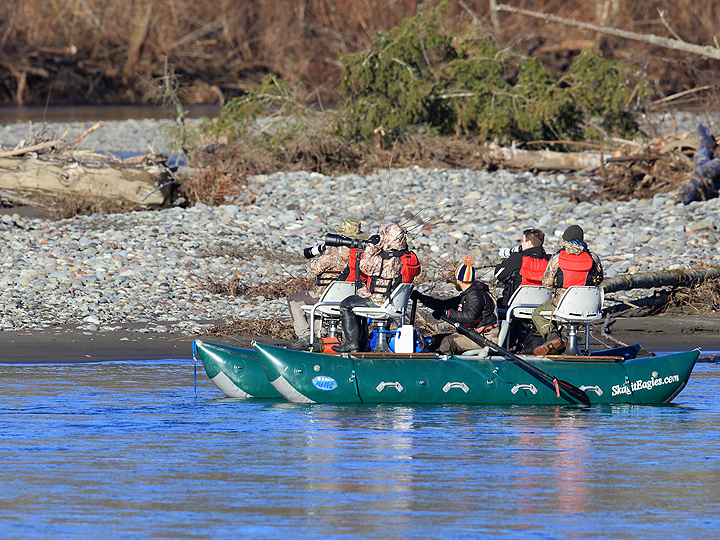 Added in 2015 is the long awaited Nooksack tour! This trip is down a remote river system with large bird numbers and beautiful scenery along the way. One thing that we love about this trip is that you won't be seeing other boats.
It is a higher energy float than the Skagit, but with big rewards. The Nooksack is a lot smaller river than the Skagit and the only way we can offer tours on it is by using a catamaran style raft. Depending on the the river level you may have to step out of the boat and wade through shallow water for a short distance. (Rubber boots are a must on this trip) This tour will require the clients to be able to help drag the raft a short distance and be comfortable with walking in ankle deep water. The Nooksack will be a very different experience from the Skagit as there is a few short stretches of mild white water as well as narrow river channels. This tour requires a minimum of 3 people and has a maximum of 4. The Skagit may be renowned for the Bald Eagles, but the Nooksack has higher numbers every year and we are happy to be the only outfitter operating on this system.
$135.00 per person.
Nooksack 6 Hour Photo Tour
These tours offer more opportunity for the client to capture action shots of the eagles. As we navigate the river we will be stopping in select spots with high concentration of birds and concentrating on capturing pictures of the birds feeding. This tour requires a minimum of 3 person and maximum of four. If you would like this to be a private tour you would have to purchase the minimum 3 seats, as well as the last seat at 50 percent of the seat cost. Please contact us via email or phone to set up your private tour.
$185.00 per person.
Photo Contest
If you are interested in entering our Photo contest just send your picture to us via email. All pictures will be posted on our facebook webpage at: http:/facebook.com/skagiteagles. All pictures are protected by our copyright. The winner will be determined by email vote on March 25th.
The picture must be taken from one of our guided trips
Only 1 picture may be entered per person, per trip from the current season.
Winners will be chosen by the contestants voting for the best picture.
If you submitted a picture, you must vote for what you consider to be the best picture in the contest. If we don't receive a vote from you, your picture will be disqualified.
You may not vote for your OWN picture.
The picture that gets the most votes will win first place, the next highest 2nd place, and then 3rd place.
Send all votes to skagitguide1@gmail.com by March 5th.
1st Prize: 2 Person Jet Sled Photo Tour
If you have any ideas or input about the contest feel free to let us know so we can continue to improve it. Many thanks to all that joined us in the past! We appreciate your business and have only our clients to thank for keeping us on the river